Margate Civic Society
"The love of our town leads us"
Welcome to our website
Founded in 1968, Margate Civic Soc
iet
y is a registered charity (no.257884). It is affiliated to both the Kent Federation of Amenity Societies and the Kent History Federation and is a founder member of Civic Voice.

We hope that you will enjoy browsing these pages and that they will help you to take pleasure in the history and character of Margate and its surrounding towns and villages. We hope also to provide a service to members of the Society in publishing news and photographs that will be of interest.

The Society produces a Newsletter four times a year, and has a winter lecture programme which covers a wide range of interests. Details are given on the "Calendar" page. The last meeting of each season includes presentation of the coveted Town Pride awards, and details of the 2019 winners can be found on the "Town Pride" page. Town Pride contenders are nominated by members of the Society.

If you would like to join Margate Civic Society, details of fees and a link to an application form are shown in the "About us" page. We currently have almost 300 members and always like to welcome more. The winter lectures are invariably of a high quality as is the Newsletter, and membership of the Society really is extremely good value. The Society takes an active role in reviewing and, where appropriate, responding to planning applications and has a good working relationship with Thanet District Council in helping to improve the character and appearance of the area.
CORONAVIRUS

To give some certainty to members and our booked guest speakers, we have very reluctantly decided to cancel our meetings for the foreseeable future. It's not possible at this time to say when we'll next be able to hold a meeting, but we are hoping to be able to hold one in October - so please watch this space for updates.


TOWN PRIDE AWARDS 2020

You can see this year's Blue Plaque winners on our Town Pride page by clicking here. We will announce the properties judged as Highly Commended later, once they have been notified. Because of the pandemic, we have decided not to award a Town Pride Award in 2021.


WAR MEMORIALS

We'd like to remind everyone of James Brazier's extensive work in detailing the names of those lost in conflicts and who are remembered on the Margate, Westgate-on-Sea and Birchington War Memorials. James's work can be viewed by clicking here.


A MUSIC HALL TRIBUTE TO MARGATE

Distinguished Oscar-winning film director Arnold Schwartzman OBE RDI was brought up in Margate and has never lost his love for the town. He has spent much time collecting Music Hall songs with a Margate connection and has kindly compiled a CD of twelve songs for Margate Civic Society to sell. Each CD costs just £5 (plus £1 p&p where appropriate) and is available to buy at our meetings or by contacting us by clicking here. For further information about the CD's playlist, please click here.

For an extract from 'All Aboard for Margate' by Florrie Ford, to whet your appetite, please click here.


BLUE PLAQUE GUIDE

The Society has published an eight-page guide to the Blue Plaques of Margate, including a map of their locations and a brief description of the person commemorated by each plaque. We are selling them at our meetings and other events for 50p each.

SOCIAL MEDIA

One of our members, Anny Squire, is kindly looking after our social media. If you use Twitter, you can follow us at @MargateCivicSoc and on Facebook by clicking here. Please check regularly so we can keep you informed of new and interesting events.


CHRISTOPHER & STEVEN ALEXANDER

We have been very fortunate to have had four talks by Dr Steven Alexander about his father Christopher Alexander ARE ARCA. Christopher was a Margate man who was a most talented artist. We are very pleased to be able to supply copies of Steven's beautifully written and illustrated book about his father. For full details and samples of Christopher's work, please visit the "Christopher Alexander" page.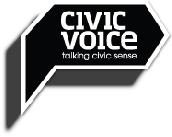 Please email any comments about this website or suggestions for its improvement to the Webmaster

Copyright © 2007-2021 Margate Civic Society
All rights reserved

Last updated 13th May 2021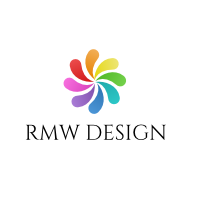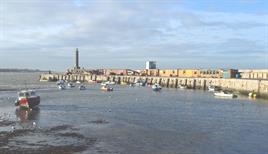 "The love of our town leads us"
OUR PRIVACY POLICY


Please click here to see our privacy policy, including our obligation to notify members what information we hold, how it is stored and used, and their rights to view their data and to advise us of their wish not to receive communications from us.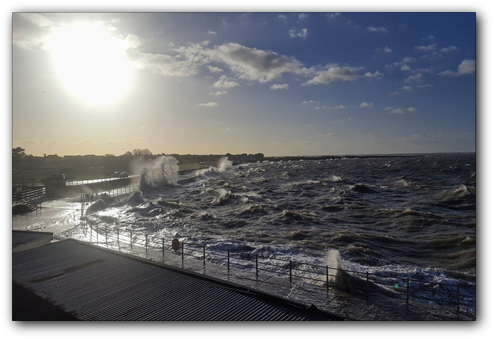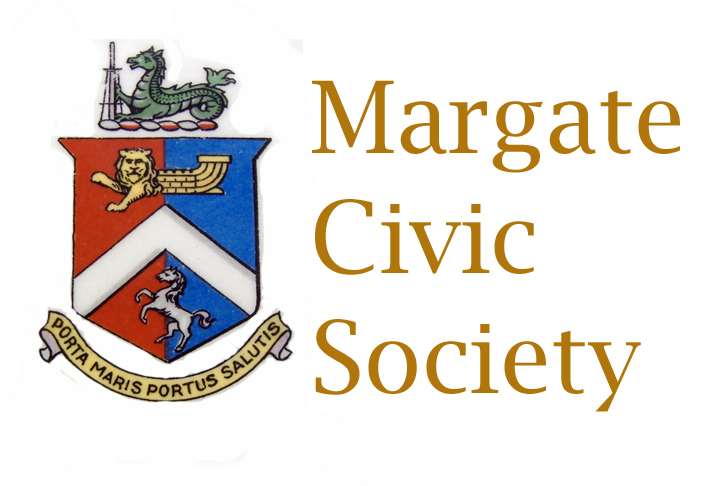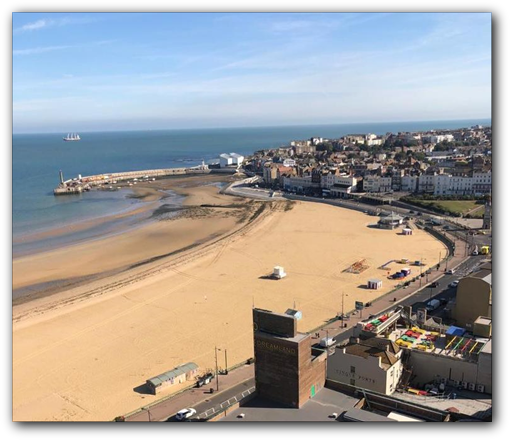 A new Blue Plaque for Margate


Armistice Day, 11th November, last year marked a special anniversary. On 11th November 1920, exactly one hundred years ago, the Unknown Warrior was interred in Westminster Abbey in the presence of HM King George V. Margate plays a role in this momentous event in that the Tomb of the Unknown Warrior was proposed by the Reverend David Railton, who lived in Margate around the turn of the century, at 42 Gordon Road, Cliftonville. To mark the centenary of the interment of the Unknown Soldier, Margate Civic Society has installed a Blue Plaque at 42 Gordon Road.



Following his upbringing in Margate, including education at Stanley House School in Cliftonville, David Railton attended Keble College, Oxford. During the First World War, he served as an Army Chaplain and during this time saw a grave in northern France with a pencilled inscription An Unknown Soldier of the Black Watch. This gave him the idea of a national memorial and, in the summer of 1920, he suggested to the Dean of Westminster that an unknown soldier be brought back from the battlefields of France and Flanders to be buried among the nation's illustrious dead in Westminster Abbey. The Dean successfully persuaded the government to adopt the Revd Railton's suggestion and so instructions were given to bring back a body of a British soldier who it would be impossible to identify from each of four areas: the Aisne, the Somme, Arras and Ypres. One of those bodies was selected by Brigadier-General L J Wyatt DSO to be conveyed to England and the remaining three were reinterred. Although reference here is made to a British soldier, it is possible the body could be that of a sailor or airman, hence he is always referred to as the Unknown Warrior rather than as the Unknown Soldier.

The Reverend David Railton was awarded the Military Cross and was Mentioned in Dispatches for his exemplary conduct during the war. After the war ended, he served as Vicar of Margate from 1920 until 1925 and subsequently several Church posts throughout the country prior to his retirement in 1945. He died at the age of 70 in 1955.

Margate Civic Society is pleased and proud to recognise the Revd Railton's connection with Margate by installing the Blue Plaque at his former home.

For more information about the Revd David Railton and the Tomb of the Unknown Warrior, please click here to read an article by James Brazier.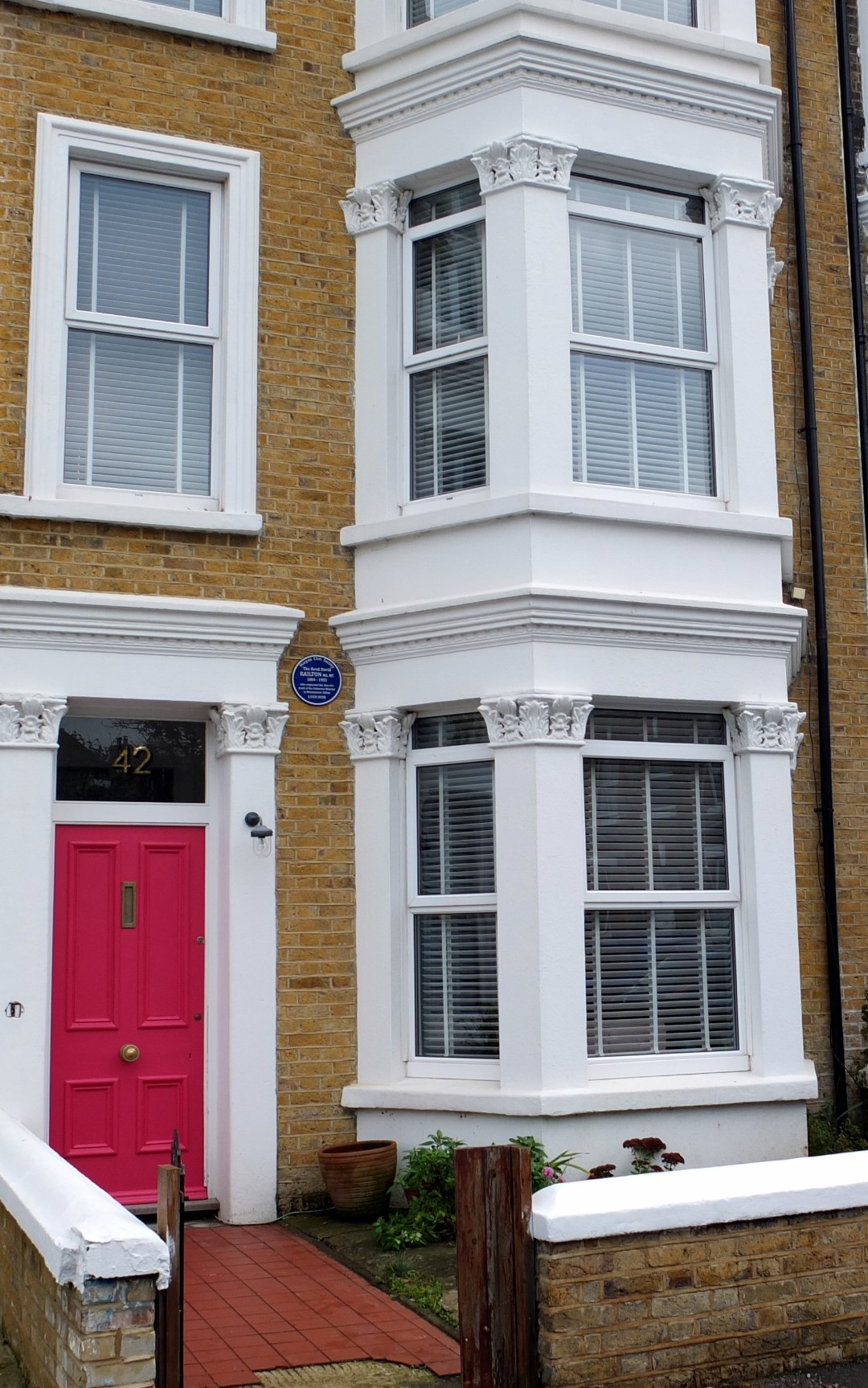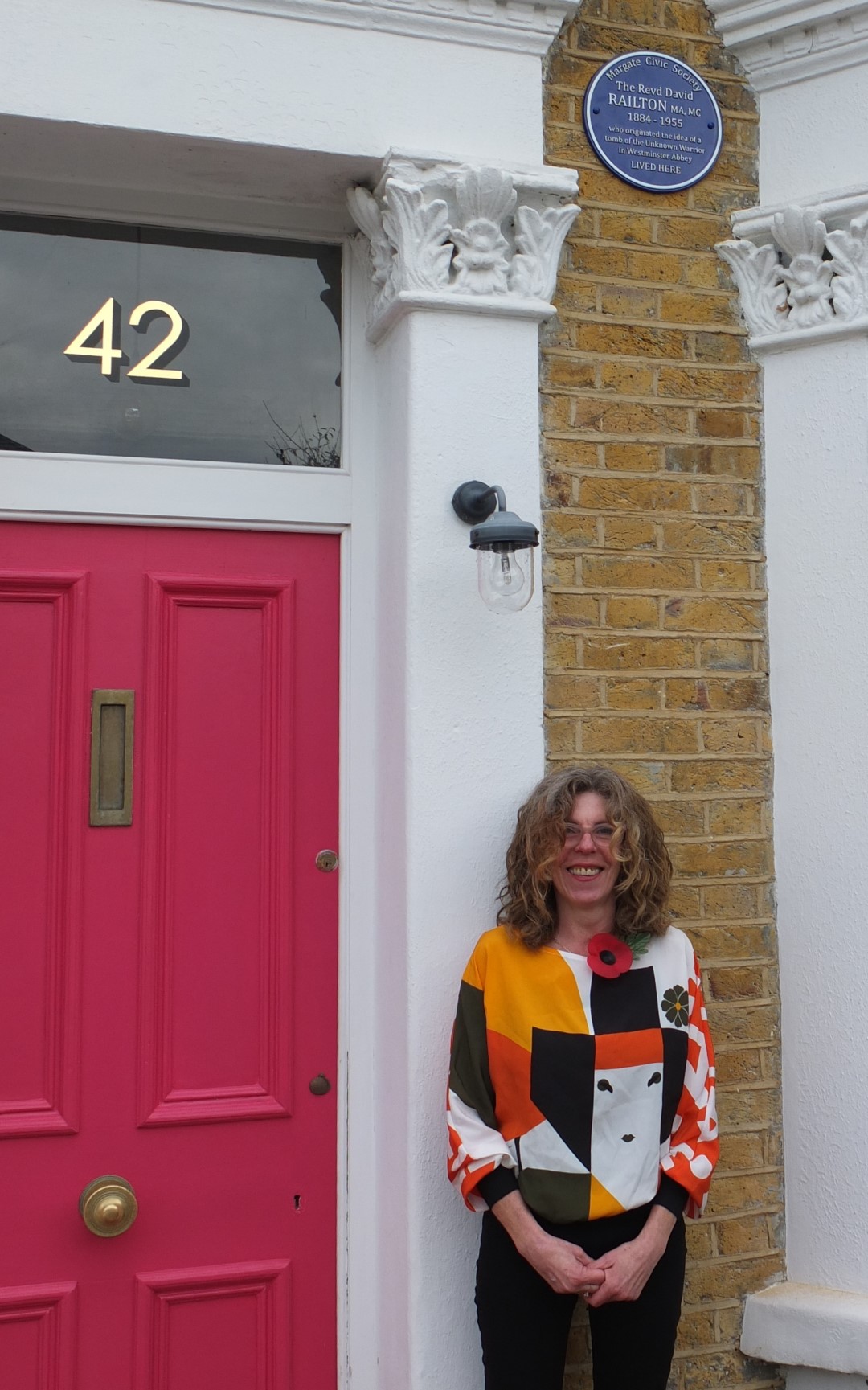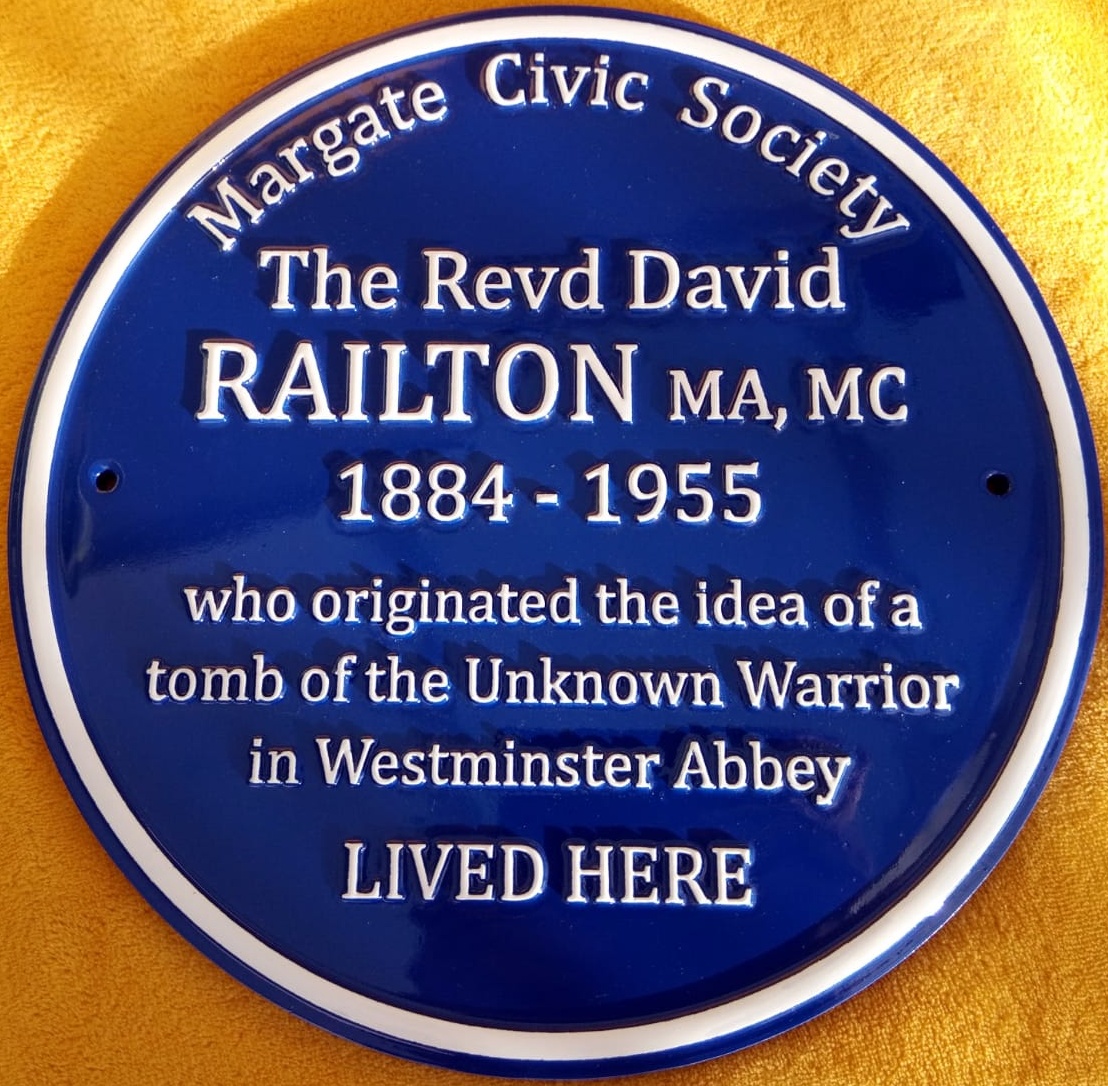 (left) the Blue Plaque installed at 42 Gordon Road, Cliftonville

(above) the Blue Plaque

(right) Ms Lisa Ebsworth, the house-owner of 42 Gordon Road, Cliftonville
A 1960s film of Margate


Courtesy of Dave Eldergill, click here to see a short YouTube home-movie of Margate in the 1960s, including Butlins Queen's Hotel and the Lido Sun Terrace. It's also a happy reminder of those halcyon days when we could stand and sit next to each other!