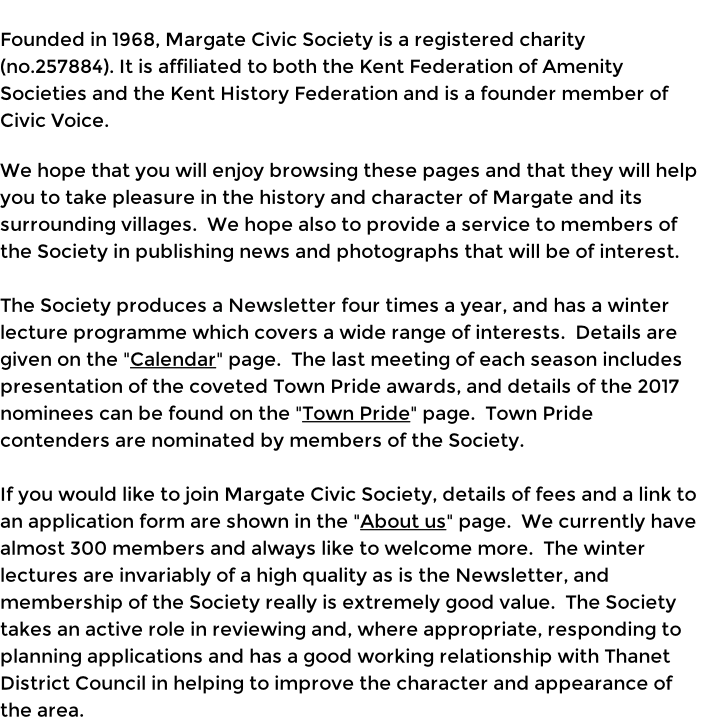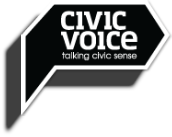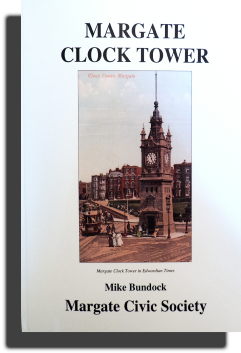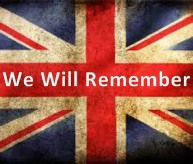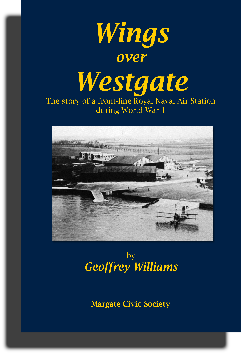 OUR MEETINGS
Our next meeting will take place on Thursday 6th April 2017. Our guest speaker will be Sam Causer, local architect and lecturer, talking about "A House in a Garden in a Park: Margate Coastal Park mediating between the civilised and the wild, 1860s-2017".

This is one of many really interesting talks which we have booked for the 2016/17 season, details on our Calendar page.

TOWN PRIDE AWARDS
We're very pleased to announce our Town Pride Award nominees for 2017. Full details are on the Town Pride page. The results will be announced at our meeting on Thursday 11th May.


MARGATE CAVES
Our heartiest congratulations to the team who've been working so hard to re-open the Margate Caves, an important asset to the town. They've recently been awarded a Heritage Lottery Fund grant of £1,115,700 and have announced that the caves will re-open in 2019. Full details are on their website which you can reach by clicking here.

CHRISTOPHER ALEXANDER
We have been very fortunate to have had three talks by Dr Steven Alexander about his father Christopher Alexander ARE ARCA. Christopher was a Margate man who was a most talented artist. We are very pleased to be able to supply copies of Steven's beautifully written and illustrated book about his father. For full details and samples of Christopher's work, please visit the Christopher Alexander page.
OUR NEXT COACH TRIP
The next of our one-day coach trips will take place on Tuesday 23rd May when we will visit the Vimy Ridge Canadian Memorial and the city of Arras. Details here.

OUR 50th ANNIVERSARY
The first meeting of Margate Civic Society was held on 26th November 1968 so we will be celebrating our golden anniversary year in 2018. We have lots of ideas of how to mark the occasion, including inviting reminiscences from members and a 60s theme evening for our December 2018 meeting. We welcome ideas on how we can further mark this important year for us; please email them to us by clicking here.
OUR COASTLINE
Thanet District Council has produced an excellent video showing our wonderful coastline - you can see it by pressing the play symbol below.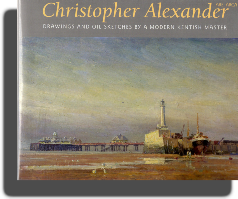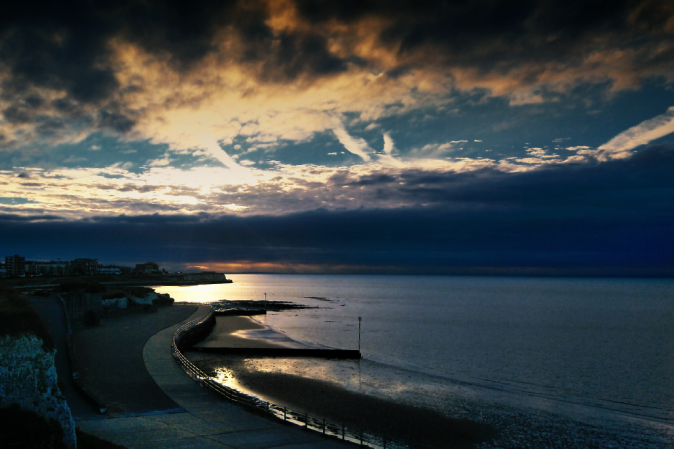 St Mildred's Bay, Westgate-on-Sea
We are grateful to Kent County Councillor Mo Elenor for recommending payment of a KCC grant of £478 towards "Raising the Profile" of our Society. This money will be used over the next twelve months to print publicity leaflets, our coach trip fliers and our second-to-none quarterly Newsletters.